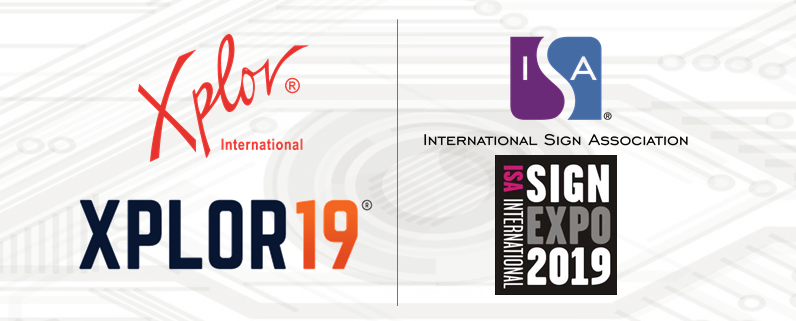 ---
---
Co-Location with ISA International Sign Expo 2019
XPLOR19 and ISA International Sign Expo 2019 are co-locating in Las Vegas, bringing together the worldwide electronic document systems industry with the sign, graphics and visual communications industry. Although they will operate as standalone events, attendees to XPLOR19 and/or the ISA Sign Expo will receive special offers and invitations in order to experience and reap the rewards of both events.
Please see below for information on the partnership, what it means for attendees, and what it means for our vendor partners. If you have ANY questions, please do not hesitate to reach out to the Xplor Staff.
---
Backstory
Two-and-a-half years ago, ISA saw a growing percentage of attendees seeking education in the wide format and transactional space and reached out to Xplor to put on an educational session at their event. Fast forward to the 2017 ISA Sign Expo where we gave a session in which over 125 people participated in a lively discussion.
Since then, Xplor and ISA have been in discussion with the goal of co-locating. That said, 2019 is the year and Xplor is all-in (Vegas pun intended)!

What does this mean for attendees?
This partnership allows attendees to gain exposure to new technologies, ideas, and networking with a crowd they may not have been in touch with before. Attendees will receive a free expo hall pass to check out the ISA Sign Expo as well as discounts on additional education.
One question we have considered is "Won't this co-location push Xplor away from the feeling of family with a sea of people?" The short answer is "Not at all." Our event will be a standalone event in our own ballroom separate from the ISA Sign Expo sessions and show floor. Of course, we will have opportunities for ISA Sign Expo attendees to join us, but who doesn't love adding to the family! That said, Xplor will maintain the intimate feeling that many attendees love.
What does this mean for our Vendor Partners/Sponsors?
More opportunity! The ISA Sign Expo has over 20,000 attendees, including thousands of print service providers, commercial printers, digital printers, and transactional printers. Xplor is offering special discounts to target ISA Sign Expo attendees, encouraging them to join us for our education and check out our vendor forum. Additionally we will be having an "Xplor Day" that will allow ISA attendees to check out what we (and you as a vendor) have to offer, free of charge.
---